Did you know that "the antioxidants found in egg yolks may reduce the risk of eye disease"? The egg contains lutein and zeaxanthin, "two carotenoids (a type of antioxidant)" that may be beneficial to some persons suffering from age-related macular degeneration (ARMD), a well-known eye disease.
According to information produced by the American Egg Board, a "study that evaluated the lutein and zeaxanthin in 33 fruits and vegetables, two juices and eggs", found that "egg yolks contained the highest combined concentration of any of the foods evaluated".
The research team concluded that "the best way to increase levels of lutein and zeaxanthin was to eat a variety of fruits and vegetables of various colours and by adding eggs to one's diet".
In Jamaica, callaloo is readily available makes a great addition to the omelette.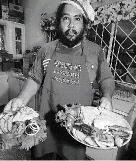 Callaloo Omelette
Suited to diabetics and the health conscious
2 large eggs
6 egg whites
1 tbps soy milk
1 tsp trans-free margarine or butter
11/2 cup loosely packed chopped callaloo leaves
1/4 cup mozzarella or vegetarian cheese, shredded
METHOD
1. In a medium bowl, beat eggs, egg whites and milk.
2. In a large skillet over medium heat, melt margarine. Add beaten egg mixture and cook until it begins to set.
3. Sprinkle callaloo and cheese on top. Cook for 1-2 minutes longer.
4. Gently fold into an omelette and fold again to give an added dimension. Cook until eggs are completely set.
5. Season to taste with salt and black pepper and serve immediately.
6. Serve with steamed bammy squares.
Serves: 2
Preparation time: 5 minutes
Cooking time: 7 minutes
Recipe courtesy of Dr Heather Little-White